1. INTEGRITY
Integrity was a common theme throughout the entire conference. KW Maps Coach, Tony DiCello, shared an insightful piece Warren Buffet once said, "Never under estimate the importance to hire amazing talent. Hire for integrity, intelligence, and energy. The first matters most or it'll kill you."
Reflecting on our Team's culture we hold the standard that integrity is not just imperative, it's the bare minimum we set for ourselves. Integrity and serving others well is not an outcome, it's an expectation. We know that to set ourselves apart and to earn the right to your trust and confidence in us, we must go above and beyond for our Clients.
From her own past mistakes, Molly Bloom – author of Molly's Game, gave a vulnerable yet impactful speech reminding us of the importance of prioritizing your reputation. One little decision that isn't aligned with your integrity can lead you to another bad decision and so on.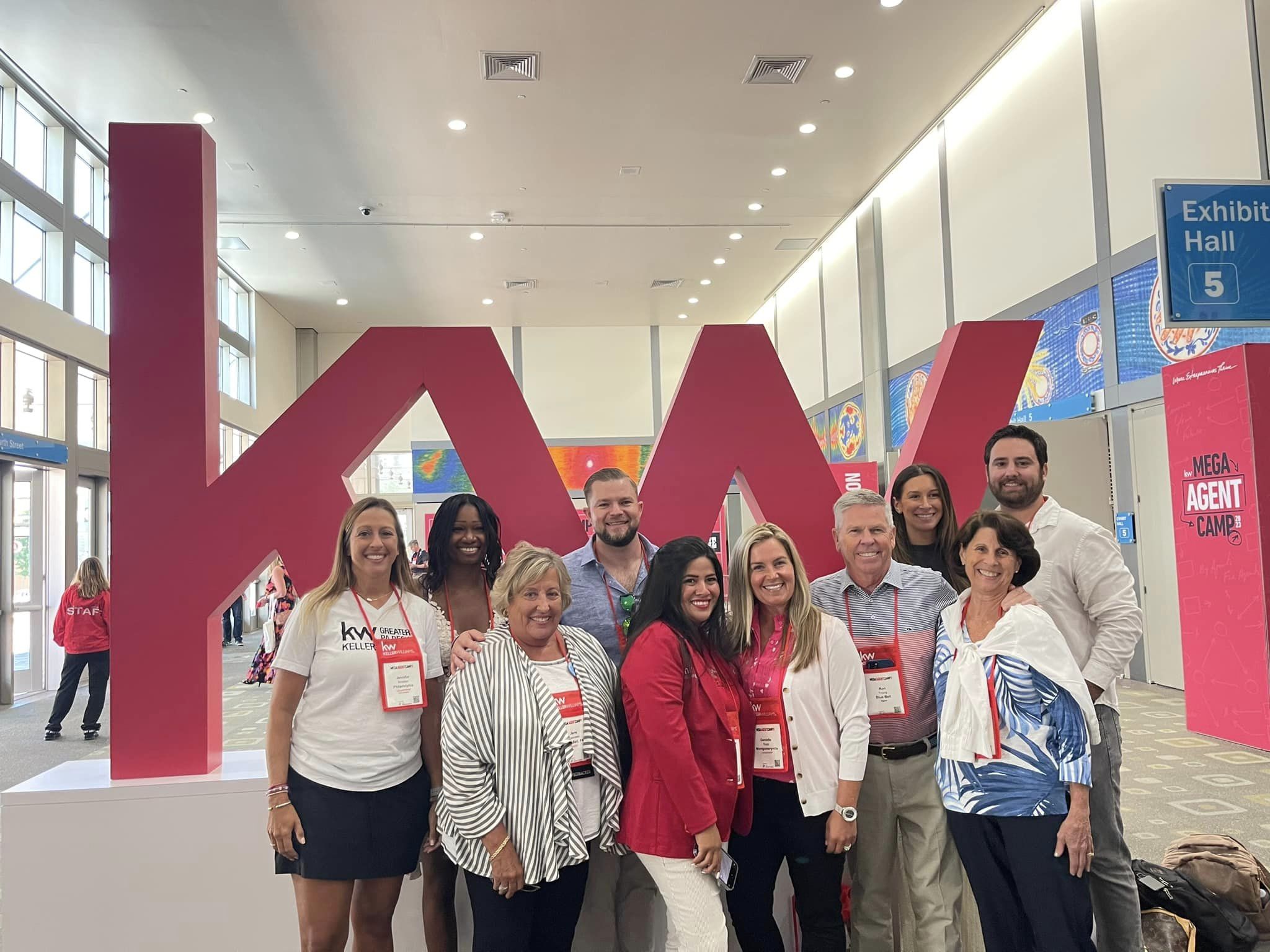 2. EQUITY
We learned that while 89% of mortgages have rates of 5% or less. There are 87 million homeowners of which: 39% own their homes outright, 61% have a mortgage. 70% of homeowners have 50% or more equity in their home. You might not know how much equity you are sitting on and what to do with it! For example, you may have enough equity to remove your monthly PMI (private mortgage insurance) payment, you may want to pay off consumer debt or student loans, or, you may want to finally remodel that dated kitchen. Wouldn't that be fun! Our Team can provide you with a Free Home Equity Analysis Report to fully understand the options you have with the equity you currently have in your home.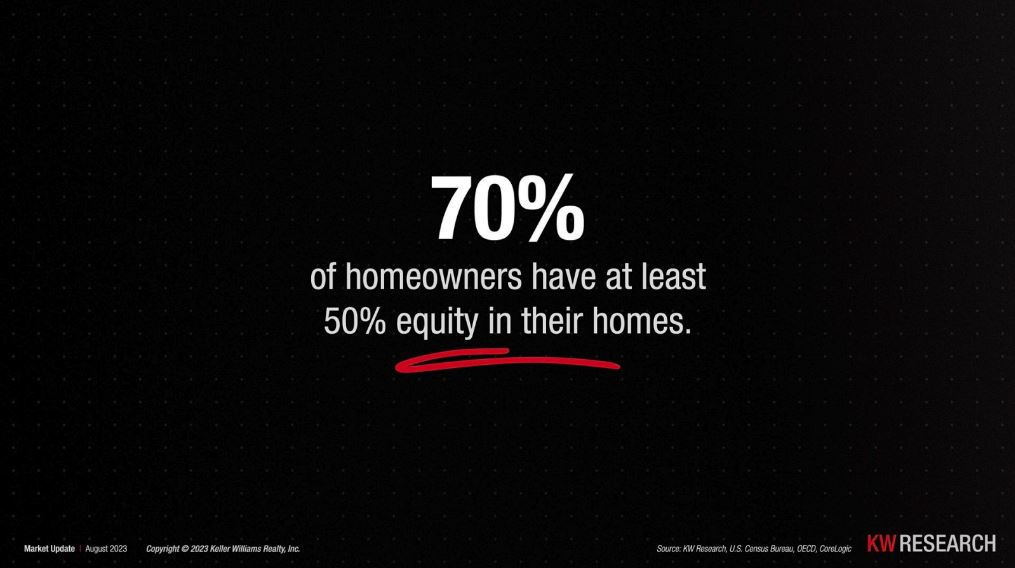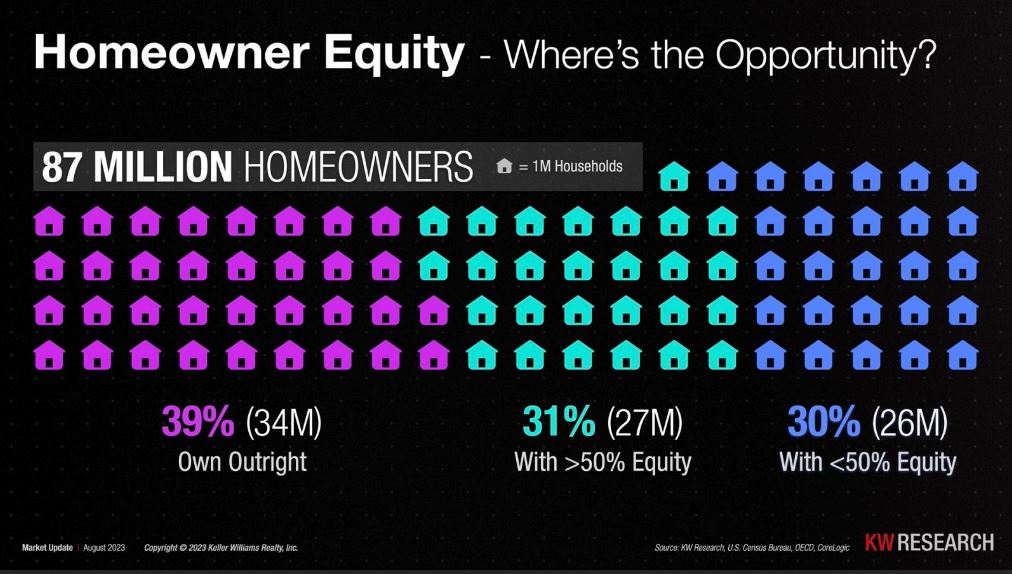 3. PERSPECTIVE
Keeping perspective in our market is crucial and it's our job to help you persevere through the noise of click bait and panic driven news headlines.
Sure, rates may be higher than they were in the past 3 years, but Gary Keller notes, "we are still below the historical 50 year average, it's all about the mortgage payment…stop buying into the chaos". The truth about real estate is, it's always the right time to buy the right property. Timing the market is a fool's game. We need to always be seeking the right property.
As a reminder, we are here to help you through your decision making process whether it's buying or selling a home. Phil Jones, author of Exactly What to Say, describes real estate agents as "professional mind-makeruppers". Always feel free to give us a call to walk you through your options…you might just be surprised!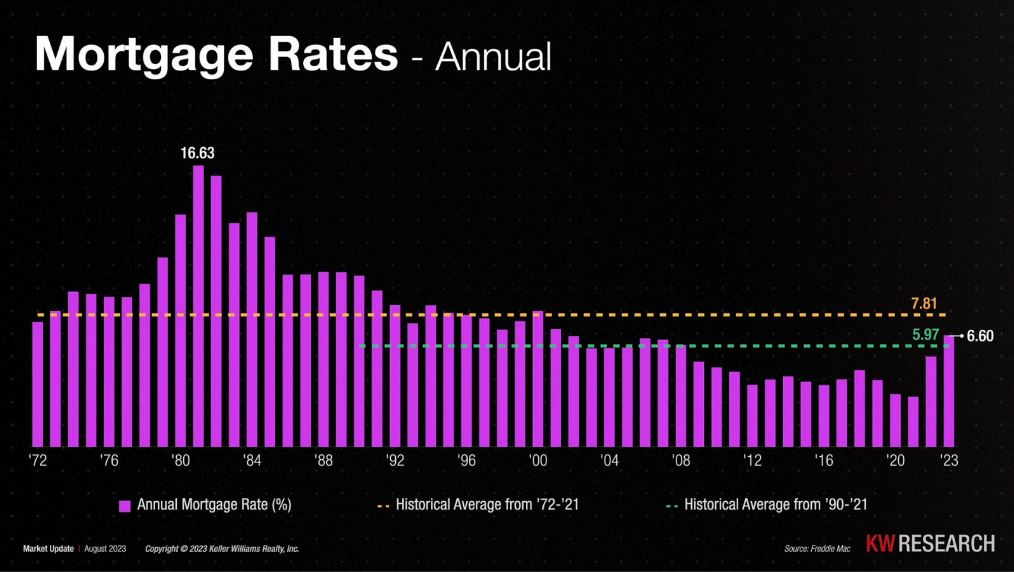 A different perspective: At today's interest rate, for every $50,000 of car you finance, you lost $200,000 of home purchase power.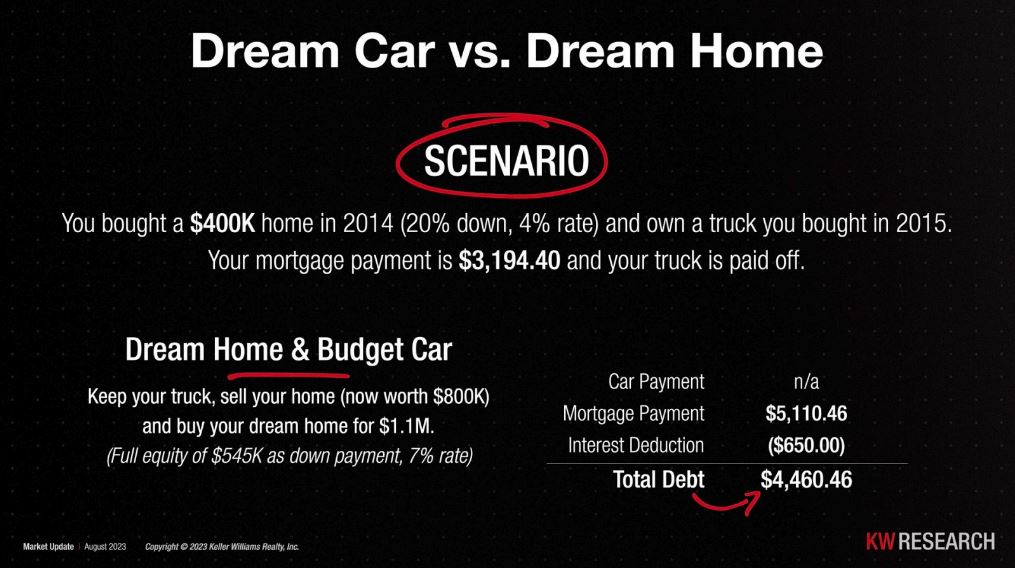 4. CONNECTION AND HAPPINESS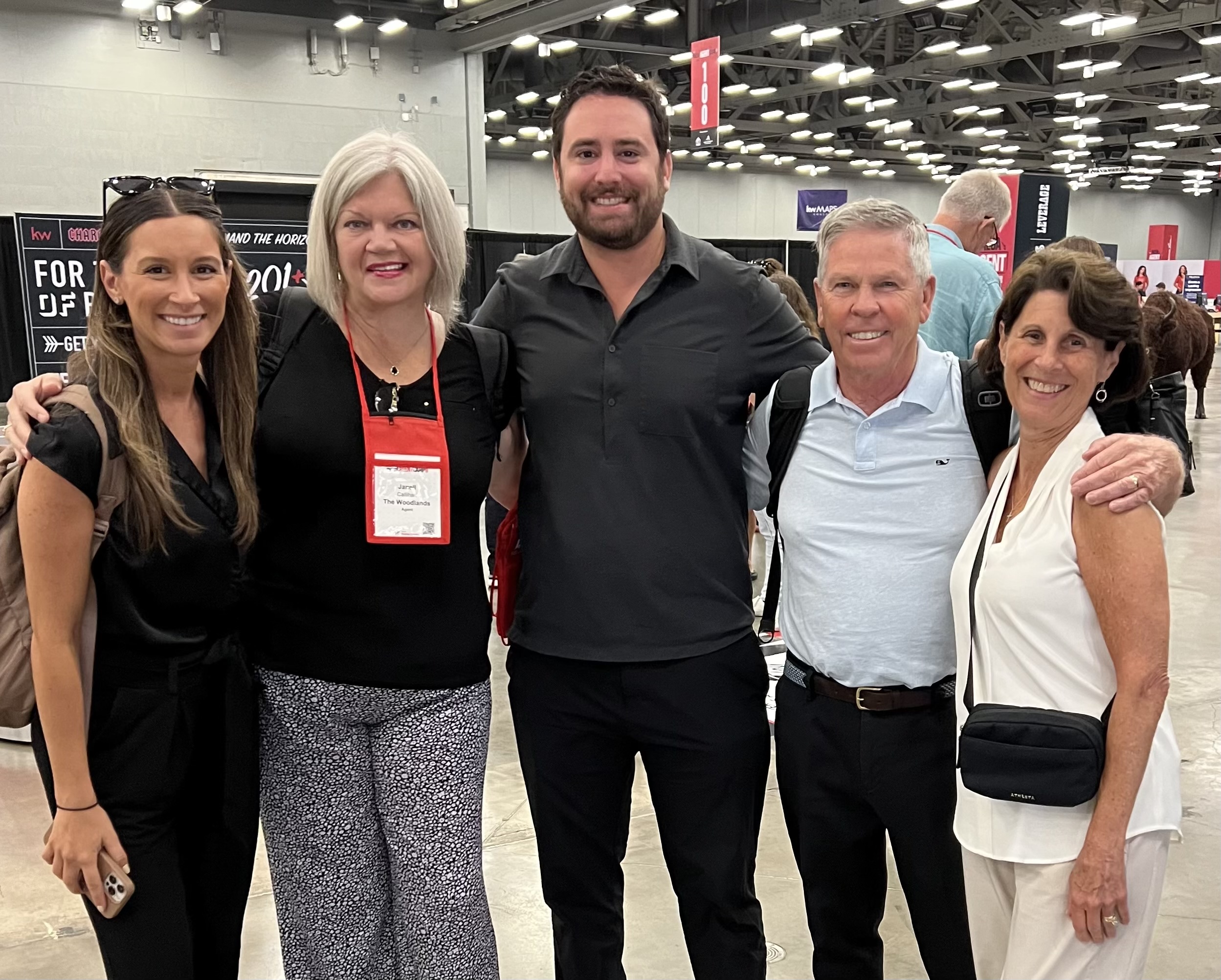 Gary Keller remarks "happiness is actually the precursor of success – not merely the result of it". Choosing a happy life involves prioritizing your key relationships, honoring your personal commitments, and giving your life over to something bigger than yourself. "Happiness and optimism actually fuels performance and achievement".
Molly Bloom conveys that, "Instead of thinking of all the things you want to get. Think of all the things you want to give. Find a way to make people feel special by focusing on exuding warmth, being a good listener, and creating authentic connections."
Tim S. Grover, former Coach to Michael Jordan and Kobe Bryant, explains, "you don't find happiness, you create happiness."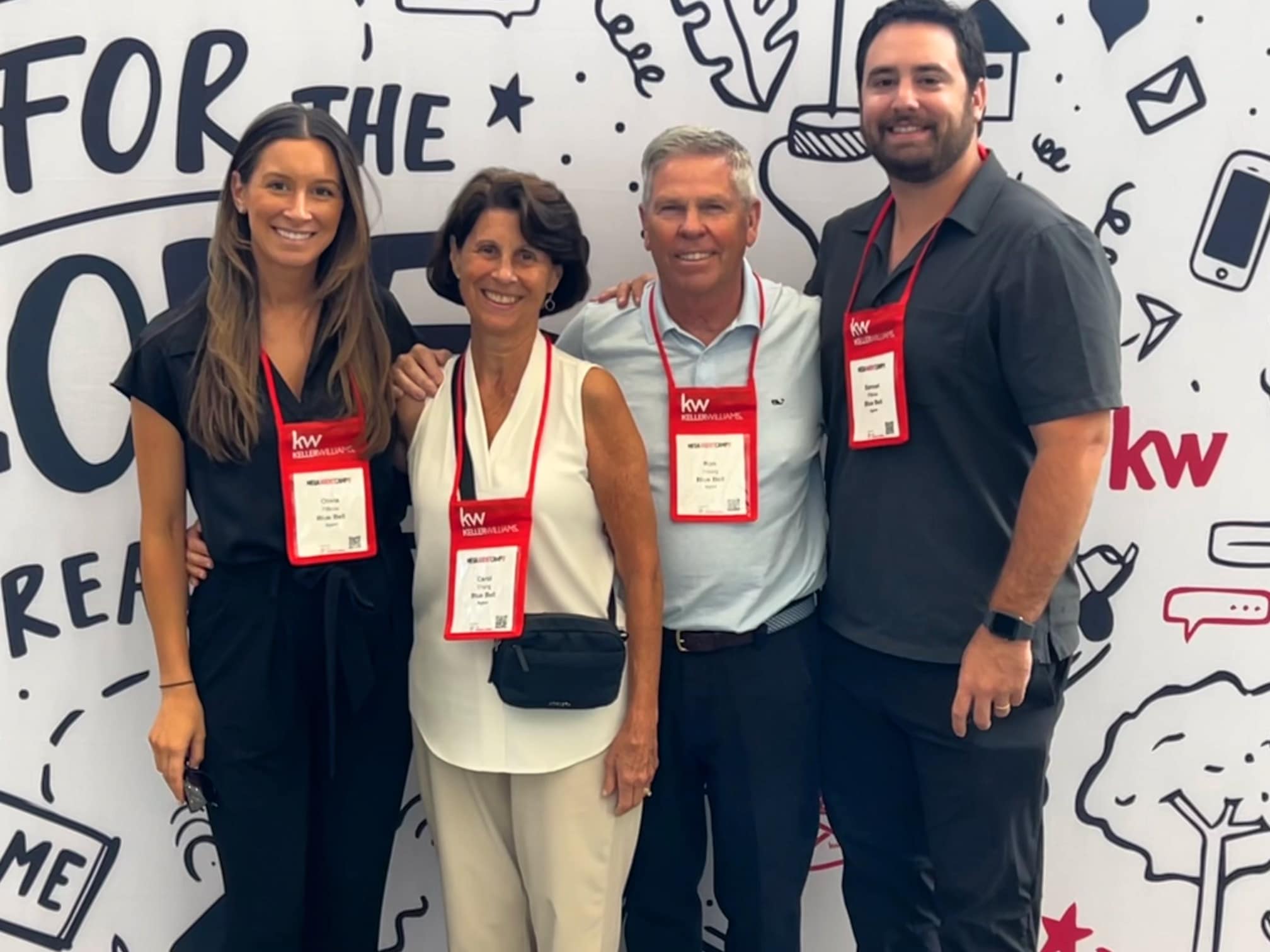 "When I look at the stars…
I can't help buy wonder,
how can you think small in a universe this big?"
– Gary Keller
"The best times are
ahead of us.
Onward!"
– Gary Keller